Route of St. Pere del Bosc i Riera Passapera
Ruta circular per Sant Pere del Bosc, antiga abadia benedictina reformada per l'arquitecte Puig i Cadafalch ubicada al bell mig d'un entorn natural de turons i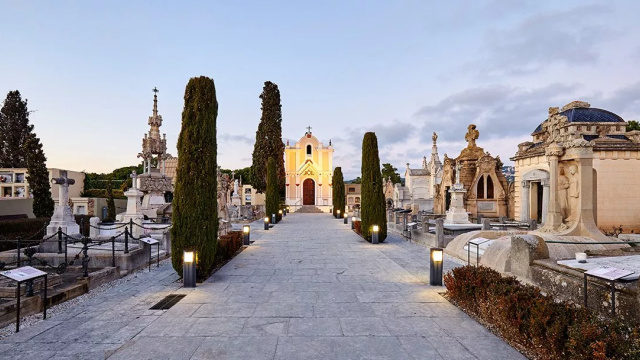 Modernist Cemetery
You'll be surprised: each time you look, you'll notice something new.
Lloret de Mar's cemetery belonged to the European Cemeteries Route and has been declared a Site of Cultural Interest. It's one of the primary examples of 19th century funerary art in Catalonia and holds a considerable 'Indiano' legacy.
The Catalan modernist cemetery of Lloret de Mar was built with the support and patronage of the town's many 'Indiano' families who wished to display their wealth through the construction of mausoleums designed and built by esteemed architects and sculptors, such as Josep Puig i Cadafalch, Antoni M. Gallissà Soqué, Vicenç Artigas Albertí, Bonaventura Conill Montobbio, Ismael Smith and Eusebi Arnau.
As you go around the cemetery, you can enjoy these authentic gems of Catalan modernist art adorned with an endless number of details associated with funerary symbology. You'll be surprised: each time you look, you'll notice something new.
The cemetery's first building block was laid in 1896 after it became clear that a new cemetery needed to be built due Lloret de Mar's growing population.
Its location was highly disputed, as the Church was opposed to the construction of a cemetery in the outskirts of the town. Nowadays, the cemetery is very much integrated within the town; back then, the distance from the inhabited urban centre was considerable.
Despite this, construction went ahead, supported by some 'Indiano' investors who purchased large plots in the cemetery in order to build their own mausoleums.
The cemetery was inaugurated in 1901. It was inspired by the idea of a village of the dead, with its streets and house-like mausoleums.